The following article is taken from Channel News Asia: http://www.channelnewsasia.com/news/asiapacific/philippines-official/2307704.html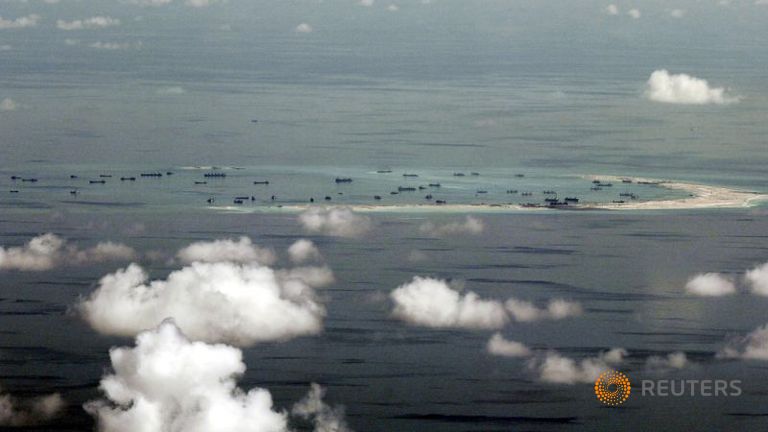 The Philippines on Monday wrapped up a week of arguments before judges in its case against China over the hotly disputed South China Sea, at a hearing boycotted by Beijing.
The Philippines has asked the Permanent Court of Arbitration in The Hague to affirm its right to areas within 200 nautical miles of its coastline, under the terms of a U.N. convention.
China rejects the court's jurisdiction. It claims an area inside what it calls the "nine-dash line" which stretches south and east of mainland China and covers hundreds of disputed islands and reefs also claimed by the Philippines, Japan, Vietnam, Thailand and Malaysia.
The line was first defined in public by Beijing in 1947. China has never formally sought a legal right to the territory.
It has been transforming low-lying reefs in the South China Sea into islands and building airfields and other military facilities on them.
"We have been able to present all of our arguments … to support the main thrust of our case that the nine-dash line has no basis in international law," said the Philippines' deputy presidential spokeswoman Abigail Valte.
"We have a good case and we are hoping that after this round we will be able to secure a decision from the tribunal in about six months' time," she told Reuters.
China's assertiveness in the South China Sea has raised tensions with its neighbours and with the United States, which is a dominant security partner and objects to Beijing's claims.
China's Foreign Ministry said on Tuesday that it would not accept any decision imposed on China with regards to its maritime sovereignty and territorial rights.
"The Philippines unilaterally raising and insisting on promoting the South China Sea arbitration is a political provocation in the guise of law," said ministry spokeswoman Hua Chunying.
The arbitration court's rulings are supposed to be binding on its member countries, which include China. But the tribunal has no powers of enforcement and its verdicts have sometimes been ignored.
"It's not about the territory itself, but really for standing up for what is right in the proper forum," Philippine official Valte said. The Philippines cannot go up against a giant military power like China, but "it is important for us to have something legal in terms of a resolution".
The court has yet to set a date for a ruling.
(Reporting by Anthony Deutsch, additional reporting by Megha Rajagopalan in BEIJING; editing by Andrew Roche and Sanjeev Miglani)
Article originally posted on 01 Dec 2015.